Gniewek Advances at Pinehurst
4:34 P.M., WEDNESDAY, JUNE 30, 2010

110th Men's North & South Amateur Championship
Baylor men's golfer senior Payne Gniewek defeated David Haley Jr. (Hilliard, Ohio) 4 & 2 to advance to the second round of match play at the 110th Men's North & South Amateur Championship in Pinehurst, N.C. Gniewek will now face Denton, Texas, native and SMU senior Kelly Kraft Thursday at 7:10 a.m. CDT. The winner will face either Oklahoma State's Morgan Hoffmann or Purdue's Nakarintra Ratanakul Thursday afternoon.
---
O'Rear 12th at Texas Amateur, Gniewek Preps for Pinehurst
11:03 A.M., MONDAY, JUNE 28, 2010

Baylor men's golfer Ryan O'Rear finished 12th in the 101st Texas Amateur Championship over the weekend at Royal Oaks Country Club in Dallas. O'Rear concluded the 72-hole event at 4-under (72-71-66-71=280), finishing 10 strokes behind Texas Tech's Chris Ward, who won the Texas Amateur at 14-under. The former Salado High All-State product shot an even-par 71 Sunday after firing a 5-under 66 during Saturday's third round.
Teammate Payne Gniewek will participate at the 110th North & South Championship this week at Pinehurst No. 2 in Pinehurst, N.C. Gniewek is seeded No. 20 for match play, which will begin Wednesday after Tuesday's qualifying rounds.
---
Baylor's Jaclyn Jansen Wins 110th WWGA National Amateur Championship
4:35 P.M., SATURDAY, JUNE 26, 2010


Jaclyn Jansen pictured with the W.A. Alexander Cup. (Photo courtesy: Women's Western Golf Association)
Baylor women's golf soon-to-be junior Jaclyn Jansen captured the 110th WWGA National Amateur Championship title Saturday, defeating Dottie Ardina 1 Up in Rochester, Minn.
"I played 36 holes three days in a row, so it was pretty intense," Jansen said. "But, I played well all week, struggled with my putter a couple of rounds but got it back.
"The last round, I was up three strokes after 27 holes and then had a stretch of a bad holes, but managed to get it back on the 15th hole," Jansen said. "I hung in there and made about a 10-foot putt on the final hole to win it."
Founded in 1901, under sponsorship of the Western Golf Association, the Women's Western Golf Association, has conducted the National Amateur Championship for 110 years.
Here's a look back at Jansen's road to winning the WWGA National Amateur Championship:
Saturday, June 26
Finals: Defeated Dottie Ardina (Lipa City, Philippines), 1 Up
Friday, June 25
Semifinals: Defeated Punpaka Phuntumabamrung (Ames, Iowa) - 2 & 1
Quarterfinals: Defeated Lauren Weaver (Scottsdale, Ariz.) - 4 & 3
Thursday, June 24
Round of 32: Defeated Madison Pressel (Boca Raton, Fla.) - 1 Up
Round of 16: Defeated Amy Anderson (Oxbow, N.D.) - 2 & 1
Wednesday, June 23
Round of 64: Defeated Jenny Schneider (Mitchell, S.D.) - 4 & 3
---
Jansen in Women's Western Open Finals Saturday
7:10 P.M., FRIDAY, JUNE 25, 2010

Jaclyn Jansen advanced to the final four of the 2010 Women's Western Open Friday, defeating Lauren Weaver 4 & 3 in the morning round and later knocked off Pumpaka Phuntumabamrung of Ames, Iowa, 2 & 1. Jansen will face Dottie Ardine from Lipa City, Philippines, in the finals Saturday at 10 a.m. CDT.
---
Jansen Advances to Final 16 at Women's Western Open
6:11 P.M., THURSDAY, JUNE 24, 2010

Baylor women's golf soon-to-be junior Jaclyn Jansen posted two wins in match play Thursday to advance to the final eight of the 2010 Women's Western Open in Rochester, Minn. Jansen defeated Madison Pressel of Boca Raton, Fla., 1 up in the morning round and later knocked off Amy Anderson of Oxbow, N.D., in the afternoon round to advance to Friday's final round of 16.
Wednesday, Jansen defeated Jenny Schneider of Mitchell, S.D., 4 and 3 in the Round of 64 Wednesday.
---
Baylor Track Sends Seven to USA Championships
3:55 P.M., WEDNESDAY, JUNE 23, 2010

Despite finishing the collegiate season nearly two weeks ago at the NCAA Outdoor Championships, seven elite members of the Baylor track and field team are making their way to Des Moines, Iowa, for the USA Outdoor and Junior Outdoor Championships from June 23-27. Along with those seven, five more former Baylor athletes are in the field as well.
On the men's side, graduate Courtney Thomas and junior-to-be Whitney Prevost are in the 200-meter field with Thomas seeded 17th (20.69) and Prevost seeded 19th (20.71). Michael Liggins, who also exhausted his collegiate eligibility this season, is seeded 18th (46.08) in the 400 meters. Joining Liggins in the 400-meter field is four former Baylor athletes, including Olympic gold medalists Jeremy Wariner and Reggie Witherspoon. Wariner is the top-ranked quarter-miler in the United States with a time of 44.73, while Witherspoon, who has battled injuries this spring, is seeded 28th (46.48). Two members of Baylor's record-setting 4x400-meter relay team that won its fifth consecutive national title at the 2009 NCAA Indoors are in the field as well. LeJerald Betters is seeded 11th (45.28), while Quentin Iglehart-Summers is seeded 23rd (46.21). Also for the men, senior-to-be Nick Lyons is seeded 12th in the javelin with his school-record breaking toss of 239 feet, seven inches earlier this season.
For the women, senior-to-be Tiffany Townsend, who moved her school record to 13 All-America accolades just two weeks ago with three more at the NCAAs, will be Baylor's only two-event competitor in the field when she laces up for both the 100 meters (17th, 11.35) and the 200 meters (11th, 23.03). All-American jumper, DeAna Carson is seeded 17th with a long jump of 20-07. Also for the women, sophomore-to-be Christina Holland, who qualified for the NCAA meet in the 400-meter hurdles, will compete in the USA Junior Championship field in the event with her ninth-seeded time of 57.94.
Start lists, live webcasts, live results and television information can be found HERE.
---
Summer Golf in Full Swing
8:04 A.M., TUESDAY, JUNE 22, 2010

Baylor women's golf soon-to-be juniors Chelsey Cothran and Jaclyn Jansen are competing this week in the U.S. Amateur Women's Public Links and WWGA National Amateur Championship, respectively. At the Public Links in Notre Dame, Ind., Cothran shot 9-over 80 in Monday's first round. Tuesday is the final round of qualifying at the Women's Public Links for match play. Jansen is at 1-over 73 through 18 holes at the 110th Women's Western Golf Association National Amateur Championship in Rochester, Minn.
On the men's side, Baylor alums Bill Allcorn, Ryan Baca, Will Doughtie, Jason Hill and Jeremy Alcorn participated in the Capital One Classic at Elledale Country Club in Houma, La., as part of the Adams Golf Pro Tour Series over the weekend. Allcorn tied for eighth at 11-under 277, earning a nearly $3,400 payout, while finishing four shots behind the winner and former Colorado golfer Pat Grady. Baca tied for 10th - one shot behind Allcorn - at 10-under, carding sub-par rounds on all four days. Doughtie tied for 23th at 4-under, while Hill finished even-par in 33rd place. Jeremy Alcorn missed the cut.
---
Canion's Cannon Is Back
3:55 P.M., MONDAY, JUNE 14, 2010

Sophomore Whitney Canion appears to have found her stride, as the lefty has two shutouts, a no-hitter and has struck out 26 batters in 13.0 innings for the Brakettes, a summer softball team out of Connecticut. Here are links to game one and game two. In addition to her strong pitching performance, Canion also drove in a pair of runs in game one on an RBI-double and a sac fly.
This picture must make the Lady Bears' 2011 opponents cringe...
---
Lady Bears Competing on the Links
3:33 P.M., MONDAY, JUNE 14, 2010

It's already gearing up to be a busy summer for the Baylor women's golf team. Soon-to-be-senior Lene Hafsten-Morch just finished tied for 25th at the Felix Finnish Ladies Open. Hafsten-Morch is also scheduled to play in the Ladies British Open Amateur June 22-26 and will play for Team Norway at the European Ladies Team Championship July 6-10 in LaManga, Spain.
Earlier this month, Chelsey Cothran qualified for the upcoming U.S. Women's Amateur Public Links Championship June 21-26 at The Warren Golf Club at Notre Dame in Notre Dame, Ind. Cothran was one of five qualifiers at Shoal Creek Golf Course in Kansas City, shooting a 72.
---
Baylor Launches 'Baylor Nation' Site
11:54 A.M., TUESDAY, JUNE 8, 2010

On Tuesday, Baylor University launched Baylor Nation - a central place on the web to keep up with Baylor's efforts to keep the Big 12 Conference together and other issues related to possible conference realignment. It is also the place to learn what you can do to help.
The site includes Baylor Points of Pride, Photo Gallery, University Statements and the most recent news stories about Baylor.
---
Burke Wins Irish Women's Open
10:22 A.M., MONDAY, JUNE 7, 2010

After completing one of the greatest college careers in Baylor women's golf history, Hertfordshire, England, native Hannah Burke won the 2010 Irish Women's Open by five strokes Sunday at Newlands Golf Club in Dublin, Ireland. For the second consecutive year, Burke shot 5-under 214 at the event, finishing ahead of second-place Justine Lee of Australia.
Last year, Burke lost to Lisa Maguire on the seventh hole of a playoff in the 3 Irish Women's Open Strokeplay after both finished 5-under par 214 at Douglas Golf Club.
Burke concluded her college career as Baylor's first three-time All-Big 12 performer after she was named to the 2010 All-Big 12 Team in April.
---
Play Resumes at NCAAs, Third Round Underway
8:51 A.M., THURSDAY, JUNE 3, 2010

Live Scoring for NCAA Championships
After a two-hour weather delay earlier in the day, second-round play at the 2010 NCAA Championships was suspended Wednesday due to darkness with nine teams still on the course. Those nine teams - including Baylor - finished the second round Thursday morning. The second round resumed this morning at 6 a.m. CDT and was concluded in time for an 8 a.m. CDT third-round start.
Baylor will start the third and final round of stroke play tied for 22nd with Tennessee, Illinois and defending national champion Texas A&M at 13-over 589. Sophomore Lorenzo Scotto carded Baylor's best second round with a 3-under 69 and is tied for 40th entering the final round. Baylor, Tennessee and Texas A&M will tee off from No. 10 beginning at 9:35 a.m. CDT.
The top eight teams after 54 holes of stroke play will advance to match play beginning Friday to determine the national champion.
---
Bears Looking for Respect at NCAAs
4:56 P.M., TUESDAY, JUNE 1, 2010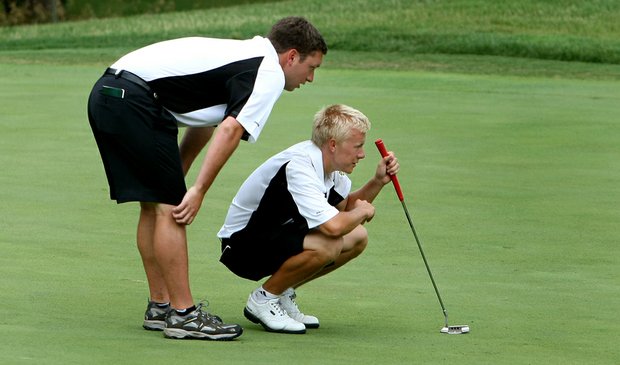 Photo by Tracy Wilcox, Golfweek.com
Last month, Baylor made its 13th consecutive NCAA postseason appearance, earning a berth at the South Central Regional in Bryan, Texas. The Bears entered the field as a No. 9 seed and eventually knocked off Georgia in a playoff to earn a spot in this week's NCAA Championships in Ooltewah, Tenn.
Baylor is making just the program's fifth NCAA finals appearance and is looking to claim one of the coveted top-eight spots to advance to match play later this week. Now, the Bears are looking for a little respect at the NCAAs, according to Golfweek.com's Ron Balicki.