SIC 'EM BLOG
Bromell, Ford To Appear on TrackTown LIVE
1:18 A.M., MON., JUNE 9, 2014

On Tuesday, Baylor freshman sprinter Trayvon Bromell and associate track coach Michael Ford will be guests on TrackTown LIVE at 3:15 p.m. CT from Eugene, Ore. TrackTown LIVE is a 90-minute broadcast on Monday and Tuesday that will preview the NCAA Division I Outdoor Track & Field Championships.
The U.S. Track & Field and Cross Country Coaches Association (USTFCCCA) has joined with TrackTown USA to bring fans the inaugural edition of the concept.
The broadcast will air live from Hayward Field Monday from 5:30-7 p.m., and Tuesday from 3-4:30 p.m. CT on TrackTownLIVE.com.
In his first season in Waco, Bromell has taken the track world by storm. He goes into the NCAA Championships with the second-fastest 100-meter time (10.01) in the NCAA this season. Besides competing individually in that event, Bromell will anchor Baylor's 4x100-meter relay team as well.
Earlier this year, the St. Petersburg, Fla., product was named to The Bowerman Award watch list, becoming the first BU athlete to accomplish that feat. He was also honored as the Big 12's Most Outstanding Freshman. Bromell won the Big 12 100-meter title with the third-fastest all-conditions 100 meters in collegiate history with an all-conditions world-leading 9.77w (+4.2m/s).
That 100-meter conference performance gave Bromell both the all-conditions and wind-legal collegiate leads, dating to his 10.01 win at the Texas Relays back in March. That mark equaled the World Junior record in the event and was a Baylor school record.
Ford is in his 13th season at Baylor coaching the sprints and hurdles. His athletes have put together one of the best seasons in school history as evidenced by his two relay and five individual entries into the NCAA Outdoor Championships.
TrackTown LIVE will also be simulcast on USTFCCCA.org, Flotrack, and RunnerSpace. Veteran track & field broadcasters Paul Swangard and Jordan Kent will co-host TrackTown LIVE.
Other athletes schedule to appear include with Lawi Lalang of Arizona, BYU's Jason Witt, Florida's Arman Hall, Georgia's Kendell Williams, Kentucky's Kendra Harrison, Oregon's Megan Patrignelli, Southern California's Aleec Harris, Texas' Ryan Crouser, and Texas A&M's Olivia Ekpone.
Coaches from those programs will also appear alongside their pupils to share intriguing insights into the dynamics of the championship setting. Special guests include former NCAA champions Andrew Wheating and Sally Kipyego, formerly of Oregon and Texas Tech, respectively.
Media members including the Flotrack crew, RunnerSpace, ESPN's Larry Rawson, The Oregonian's Ken Goe, and the Eugene Register-Guard's Chris Hansen are scheduled to give their opinions, up-to-the-minute observations, and expectations as the countdown to the first event nears.
---
espnW.com: Makenzie, Kim Make Perfect Team
11:48 A.M., THU., February 13, 2014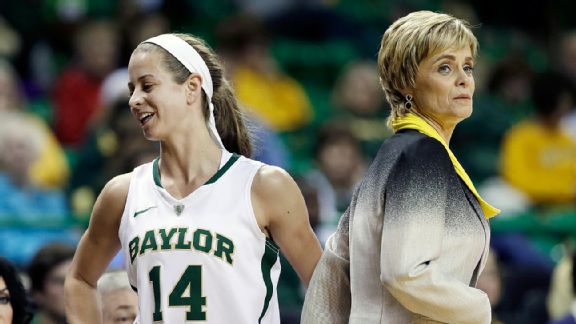 AP Photo/Tony Gutierrez
By Graham Hays | espnW.com
With eight seconds remaining in a first half in which her team had already surrendered a bevy of offensive rebounds and second-chance points, Baylor coach Kim Mulkey watched Texas inbound the ball, travel the length of the court and hit a 3-pointer with one second on the clock to take the lead. To say she wasn't in a good mood would be an understatement.
To read entire article, visit: espnW.com.
---
Floyd Casey Finale
12:30 P.M., SAT., DECEMBER 7, 2013

Bears, Longhorns Sending Out Stadium in Style
By Jerry Hill
Baylor Bear Insider
Not that he would ever take credit for it, but there is no way Art Briles could have scripted this one. Dan Jenkins couldn't have penned it any better.
Baylor will try to send out 64-year-old Floyd Casey Stadium in the best possible way, beating the rival Texas Longhorns in Saturday's historic finale and winning at least a share of the program's first-ever Big 12 championship.
"It's been a great stadium for us in my time here at Baylor," said Briles, whose seventh-ranked Bears (10-1, 7-1) will kick off against No. 23/24 Texas (8-3, 7-1) at 2:35 p.m. in a game that will be nationally televised by FOX. "And I would love to top it off for all the other people that sacrificed and put a lot of effort and soul into that stadium this Saturday. Let them feel good with the rest of us."
The only possible dark cloud in this scenario is icy conditions that predict 26-degree temperatures with winds out of the north-northeast at 11 mph for a wind-chill factor of 13.
"We're definitely glad to be at home. But when you're at home, you've got to use it to your advantage," Briles said. "I know it's going to be a great crowd. They're telling me the weather could be a little chilly or something. If you're cold, you don't sit down and stay still. You get up and holler and scream, so that's what we will have a lot of Saturday, I know. And that will be a great, great benefit for our football team."
The Bears are back at home for the first time in 30 days - since a 41-12 win over No. 10 Oklahoma - and back in a stadium where they've won 18 of their last 19 games. This season, Baylor has outscored its opponents, 65.7-14, and averaged a whopping 716.5 yards in its six home games.
"They've just dominated teams at home, it hasn't even been close," Texas coach Mack Brown said. "That's the thing that we'll have to do is handle the crowd and handle their confidence at home. That's something they've been really good at for the last couple years."
On top of the whole last game at The Case thing, the Bears and Longhorns are also playing for no worse than a share of the Big 12 championship. If 18th-ranked Oklahoma (9-2, 6-2) upsets No. 6 Oklahoma State (10-1, 7-1) in the latest installment of the Bedlam Rivalry at 11 a.m., the Baylor-Texas winner will lay claim to the outright conference title.
"I'm sure there are a lot of good scenarios out there," Briles said of a bowl picture that ranges from the Fiesta, Sugar and Cotton to the Alamo and Buffalo Wild Wings Bowl. "But you've got to win Saturday, and then after the dust settles there, we'll see where we end up. Our focus from Day One was to win every game we played this year. We haven't done it, but we've been pretty close, and we get another opportunity Saturday."
FAREWELL TO FLOYD CASEY From Throwing Up to `Making Me Want to Cry When I Leave'
By Jerry Hill and Jodi Sandifer Baylor Bear Insiders
Hired away from Division II Angelo State in December 1971, Grant Teaff said he wanted to "throw up" when he walked into Baylor Stadium for the first time.
"I had facilities that I had just built there at Angelo State - new weight room, training room, meeting rooms, everything," Teaff said. "And it was a sad day, because I had to come to the realization that not only was I facing building a program that had fallen on the hardest of times, I didn't have any tools to do it with."
The irony for Teaff, though, was that when he walked away from the stadium 21 seasons, 128 victories and eight bowl games later, that stadium "was one that made me want to throw up when I first saw it, to making me cry when I leave. It's changed dramatically."
Teaff, whose office at the American Football Coaches Association overlooks the new riverfront Baylor Stadium that will house the Bears starting next season, said the 64-year-old Baylor/Floyd Casey Stadium became "our home."
"Just the conversations I had in my office with hundreds of players through the years, life-changing conversations," Teaff said. "To see guys come in as freshmen when they're babies, and then see them leave as grown men with character and integrity. . . . It's not like just having a stadium out somewhere. I don't think ath would bother me - and I'm not bothered by it - but I am emotional and tied to it. So much of my life revolved around that stadium, and so many fantastic things happened. We saw a complete turnaround for an entire university."
He can laugh about it now, but Teaff recalls the day that he learned that there was one four-station universal gym "for the entire athletic department." And he had to use the concrete-block room that housed that one weight-training gym for staff meetings.
Told by the president and athletic director that he could build a new weight room, "if you can raise the $50,000 to do it," a distraught Teaff sat in his office by himself, trying to figure out how he was going to do that, "because I didn't know anybody."
Charlie Jones, a university development officer who later headed the Bear Club, informed Teaff that he had found the money to fund the new weight room, "but I know you won't take it."
Informed that the money came from stock in a beer company in Fort Worth, Teaff said, "Heck yes, I'll take it. Are you kidding me?"
"And then I said, in my best Baptist vernacular, "The devil's had that money long enough."
Running through a stream of memories that include the 34-24 "Miracle on the Brazos" victory over Texas in 1974, the "worm" story before the 38-14 win over Texas in '78 and walking out of the stadium for the last time after a 21-20 win over Texas in 1992, Teaff is touched the most by the 42-15 Homecoming win over Arkansas in 1980.
Coming off a hard-to-fathom 30-22 loss to San Jose State after an 8-0 start, Teaff said he was concerned about that "cloud of `Oh, what might have been,' hanging over us," and could never come up with the words to say to his team.
Kyle Woods, who had suffered a blow in preseason practice the year before that left him confined to a wheelchair as a quadriplegic, had made the trip down from Dallas to Waco that day and asked if he could speak to the team.
"He told them, `Guys, what you have to do is you have to take a setback and turn it into a comeback,''' remembers Teaff, who watched as Woods miraculously arched his hips and "somehow pushed up and stood up in the room."
"That was the first time he had ever stood, and the last time. He never stood again," Teaff said. "Anyway, to put it mildly, Arkansas never had a chance."
When he walks out of the stadium on Saturday for the last time, Teaff is already prepared for the emotions that will come like floods.
"But from a realistic standpoint," he said, "you look at the positive feelings about a new stadium, and that far overshadows the emotional tie to bricks and stone, because the relationships don't change. You still have those. It's just a place."
WALTER ABERCROMBIE (all-time leading rusher and currently head of the `B' Association):
"The most memorable moment for me at Floyd Casey was winning the conference championship in 1980, when we defeated Arkansas at Homecoming. It was such a beautiful day and a great day for football. I remember one of my teammates who was injured the year before and became a quadriplegic because of his injury, Kyle Woods; he had been receiving treatment, and we hadn't seen Kyle in several months. Coach Teaff arranged for Kyle to come and visit us at Floyd Casey before the game. When Kyle came into the room - of course, everybody loved Kyle - and when we saw him in the wheelchair, it was a very uplifting moment. He spoke to the entire team before the game started. It was one of the most inspirational speeches I think I've ever heard. Here was a young kid who lost the ability to walk for the rest of his life inspiring us to go out and play the game. I think that memory sticks out more and more the older I get."
FRED BARBER (Bear Foundation member, fund drive volunteer and former football player in the 1970s):
"The memories of driving to get here were memorable. We lived in Amarillo and Lubbock for years, and all of those trips driving to Floyd Casey and coming into Waco. We'd get to Waco, and driving around the stadium would be the first thing we'd do. It was a big part of my Baylor experience. It's going to be hard to say goodbye. It's got the best sight lines of any stadium I've ever been to. I'm excited about the new stadium. I'm not sure it will be better, though. It may be prettier and fancier, but I'm not sure it will be better as far as sitting in the stadium and watching the game. Saying goodbye to Floyd Casey is like saying goodbye to an old friend. It's like losing someone you've had so many great experiences with."
JERRY ARMSTRONG (Bear Foundation board member and fund drive volunteer who hasn't missed a home game in over 40 years):
"The Texas game in '74 was a very memorable day. It was rain, misty and cold, and I have a confession - I left at halftime. I stopped in Hillsboro at a Dairy Queen. A woman ran in and said we had scored, and I thought, `Well, that's good. So I keep driving past Corsicana. And when Baylor got ahead, I stopped the car on the side of the road, got out, and ran around yelling with my dad and uncle. . . . Of course, the OU game was important. This year was great, but the one in '11, when Robert (Griffin III) threw the touchdown pass into the end zone, man, that was something else."
ANDY SPENCER (Bear Foundation board member, fund drive volunteer and a Bruiser mascot in the 1980s):
"As a mascot, when we used to let the neighborhood kids into the south end zone, it was always fun to go high-five all the kids there. Quite often, those kids would bring a Nerf football, and impromptu passing sessions would take place. . . . What was great about Floyd Casey before the big sky boxes were there, before the USC game in '86, I was heading up to the president's box, and it was very hot and humid, and the only time I ever got lightheaded. Right at the top was the ice delivery room. I was able to walk in and sit on a bag of ice and put a bag of ice under each arm and on my neck in the Bruiser suit."
CARROLL WEBB (Bear Foundation board member, fund drive volunteer and 1948 Baylor graduate):
"Neal Jeffrey was our quarterback back then (in the 1974 "Miracle on the Brazos), and he got hot, and we just clobbered them. That's the most memorable game out here. . . . I'm soon going to be 91 years old. But I want to be around a few years so that I can enjoy them over there in that new stadium."
HAROLD FINNEY (longtime Baylor fan who was the first game at the new Baylor Stadium in 1950):
"Frankly, to me, this was always the new stadium, because I'm just old enough that I can barely have a memory of being with my parents at what I like to call the erector-set stadium, Muny, in 1949. So this one came up, and we lived just down the road here. . . . I was one of the ones, for a fact, that was here for the `Miracle on the Brazos.' It was just plain monumental."
BAYLOR LEGEND: Bill Glass Helping to `Bury' The Case
Although he had a special affinity for Rice University, having watched his brother play for the Owls for years, Bill Glass knew in his heart that "ultimately, I would be in some form of ministry."
That's why the "preacher boy" from Corpus Christi (Texas) Ray High School ended up at Baylor and became one of the premier linemen in college football in the 1950s.
"I never really thought of myself as being a pastor type," Glass said, "but I did think of myself as being in some form of Christian ministry. And ultimately, that's what happened."
The 78-year-old Glass, who is widely recognized as one of the top evangelical pastors in the country through his Bill Glass Champions for Life ministry, will give the pregame invocation at Saturday's Floyd Casey finale against the Texas Longhorns.
"I was there when it was the new stadium, because I came to Baylor in '53," said Glass, a consensus All-American with the Bears as a senior in 1956.
"And now I'm burying it, since I'm doing the invocation before the final game. It's going to be like a funeral at Floyd Casey Stadium."
After playing for the freshman "Cubs" in 1953, Glass became a varsity starter the next season for a George Sauer-coached team that finished 7-4 and lost to 13th-ranked Auburn in the Gator Bowl. And then he earned All-America honors as a senior on a 9-2 team coached by Sam Boyd that upset second-ranked Tennessee, 13-7, in the Sugar Bowl.
"We were supposed to get beat by two or three touchdowns," Glass said of that memorable Sugar Bowl victory, "and we beat them pretty decisively. It was a fun game to play."
In the era of the one-platoon system, Glass rarely left the field. A middle guard on defense, he played guard, tackle and center on offense and also kicked off for the Bears. His only breaks came on the other special teams plays like punt, punt return and kickoff returns.
Defensively, Glass said he was "almost like a linebacker, because I was making plays on both sides of the field."
"I lined up over the center, and what you would do is fire into the center and then move up and down the line. I would slide against the pressure, and I was able to make tackles all over the field."
When he got to pro ball and only had to go one way as a Pro Bowl defensive end, Glass said he felt like he was on a picnic.
A first-round draft pick by the Detroit Lions in 1957, Glass chose instead to play one year with the Saskatchewan Roughriders of the Canadian Football League before beginning an 11-year NFL career with the Lions (1958-61) and Cleveland Browns (1962-68).
He earned Pro Bowl invites with the Browns four times, including the 1964 season when they won the city's last championship in any pro sport, shutting out the Baltimore Colts, 27-0, in the NFL Championship game.
"It was for pro ball as decisive a win as the win against Tennessee in college ball," Glass said. "(The Colts) were supposed to beat us, and they didn't even score on us. We had Frank Ryan and Gary Collins and Paul Warfield and Jim Brown and Leroy Kelly. It was a terrific team. That was such a great experience. Both of my boys kind of grew up in NFL locker rooms."
While his ministry actually began during his Baylor days, Glass spent his NFL off-seasons at Southwestern Seminary in Fort Worth, Texas, and graduated in 1963, "right before our championship year."
Encouraged by Billy Graham to go into citywide evangelism, Glass gave his personal life testimony several times on Dr. Graham's televised Crusades and started his own Bill Glass Ministries in 1969, the year after he retired from the NFL.
In 1972, the started a prison ministry that has exploded over the last 40 years.
"I would take people like (Roger) Staubach and (Tom) Landry and Mean Joe Greene and Mike Singletary with me into the prisons," said Glass, whose sons, Billy and Bobby, also played on bowl teams at Baylor. "And it became real obvious that inmates would listen to what pro football players have to say. . . . The key to this is they're all open to change. The best form of Christian ministry in the world is to find someone who's hurting. They're ready for a change."
Of the coming changes at Baylor, Glass said the new riverfront, on-campus Baylor Stadium "is going to be fabulous."
"I've been anxiously watching it grow," said Glass, who has been elected to the Baylor, College Football and Texas Sports Hall of Fame. "My son and I just passed by the new stadium on the way down to South Texas, and I was just amazed at how much progress they've made on it. It's going to be huge and beautiful, and the location is just fantastic."
---
Shankle Qualifies For Newcombe Main Draw
6:07 P.M., TUE., OCTOBER 29, 2013

Baylor women's tennis freshman Blair Shankle has won three qualifying matches over the last three days at the John Newcombe Women's $50,000 Pro Challenge event in New Braunfels, Texas, to advance to main draw action.
Shankle will now play Slovenia's Petra Rampre in the first round of the singles main draw on Wednesday. Rampre is ranked No. 210 in the world.
To advance to the main draw, Shankle defeated Alexandra Letzt 4-6, 6-2, 6-2 of the United States in the first round. The Dallas, Texas native then beat out Rashmi Teltumbde of India with a straight set, 6-3, 6-1 in the second round.
In the final round of qualifying, Shankle defeated USA's Leila Hodzic, 6-3, 6-2.
This tournament is a USTA Pro Circuit event and the largest professional tennis event held in south central Texas. The event will feature a 32-player singles draw.
For the latest information on the Baylor women's tennis team, follow the team on Twitter: @BaylorWTennis.
---
Peers Attains Career-High Ranking
4:38 P.M., TUE., OCTOBER 8, 2013

Former Baylor tennis John Peers reached his highest ATP ranking of his career Sunday with the release of the latest rankings.
Peers moved up to No. 32 in the ATP Tour doubles rankings, a new career high. He is the highest ranked Australian and jumps up five spots from his rank a week ago. Partnering with Jamie Murray, Peers reached the finals in Tokyo last week in an ATP tour event. The pair defeated the duo of Julian Knowle (No. 41) and Jurgen Melzer (No.49) in the semi-final round. Peers and Murray then fell to Rohan Bopanna (No. 5) and Edourda Roger-Vasselin (No. 21) 7-6(5), 6-4 in the final.
In one season at Baylor, Peers racked up a 38-6 mark in doubles play, while being named All-Big 12 in singles and doubles. He partnered with current Bear Roberto Maytin to be an ITA All-American in doubles. The duo finished the season ranked No. 5 in the country and advanced to the NCAA Championship quarterfinals.
For the latest on the men's tennis team, follow @BaylorMTennis on Twitter.
---
Former Bears Climbing Up Rankings As Pros
10:59 A.M., MON., SEPTEMBER 9, 2013

Former Baylor tennis standouts Benjamin Becker and John Peers both continue to experience success at the professional level as evidenced by the latest set of ATP rankings released on Sunday.
Becker is ranked 80th in the ATP Tour singles rankings, up seven spots from a week ago. In his latest action, Becker won his opening-round match at the US Open, before falling to world No. 1 Novak Djokovic in the second round.
During his time at Baylor, Becker helped lead the Bears to the 2004 National Championship, while also winning the singles championship that year. A three time All-American, Becker is still the leader in career singles (141) and doubles (104) victories at Baylor.
Peers is up to No. 37 in the ATP Tour doubles rankings, a new career high. He is the highest ranked Australian and jumps up 11 spots from his rank a week ago. Partnering with Jamie Murray, Peers reached the quarterfinals of the US Open. The pair upset the top-25 ranked duo of David Marrero (No. 16) and Fernando Verdasco (No.22) in the first round. Peers and Murray battled Alexander Peya (No. 3) and Bruno Soares (No. 4) for three sets, before falling 4-6, 7-6(4), 4-6 in the quarterfinals.
In one season at Baylor, Peers racked up a 38-6 mark in doubles play, while being named All-Big 12 in singles and doubles. He partnered with current Bear Roberto Maytin to be an ITA All-American in doubles. The duo finished the season ranked No. 5 in the country and advanced to the NCAA Championship quarterfinals.
For the latest on the men's tennis team, follow @BaylorMTennis on Twitter.
---
Transfer Gives Up Scholarship to Join BU Volleyball
4:21 P.M., THU., SEPTEMBER 5, 2013

By Jerry Hill
Baylor Bear Insider
As a key player on Iowa State's Sweet 16 team last season, Andie Malloy posted double-digit kills in the Cyclones two NCAA Tournament victories and earned Big 12 All-Freshman honors.
But the 6-foot-2 outside hitter from Allen, Texas, wanted more. And Malloy was willing to "give all that up" for a faith-based decision that has stunned the collegiate volleyball world.
Two weeks before the start of fall practice, Malloy informed Iowa State coach Christy Johnson-Lynch that she was leaving the program and seeking a transfer to a school closer to home and with more of a Christian culture.
That led her to Baylor's doorstep last Monday, Aug. 26, when she enrolled for classes - without a scholarship - and then joined the volleyball program. Without a release from Iowa State, Malloy has to sit out this season and wasn't even able to contact the Baylor coaches until after her first day of classes.
"It's an amazing story," Baylor head coach Jim Barnes said. "She and her family made a big leap of faith. . . . It's an incredible sacrifice for her to come here and be a part of this culture. She pretty much put her money where her mouth is, because she gave up quite a lot to be here at Baylor."
Going to classes that first week was just affirmation for Malloy, who said she loves "going to chapel."
"I just love absorbing all the information that I can from the different guest speakers," she said. "And then actually hearing Bible verses in some of the classes that I've been to, I just love how open that is, because I try to put that aspect into my life, and now other people are putting it into my life. That's amazing."
While her family has to foot the bill for a full year at Baylor, one of the hardest parts for Malloy is sitting out this season.
"It will be very tough," said Malloy, a first-team Under Armour All-American and the 35th-ranked recruit nationally when she signed with Iowa State after winning four consecutive Texas state championships at Lovejoy High School. "I did think about it, but at the end of the day you just need to be happy. Volleyball is definitely one of my passions, but my No. 1 priority is God. I want to increase my relationship with Him and also be surrounded by girls that have the same morals and values that I do. And this group of girls is incredible."
Helping the transition is the fact that Malloy was teammates with Baylor sophomores Laura Jones and Adrien Richburg with the Skyline Juniors Volleyball Club in Dallas, a program that also produced freshmen Omotola Itiola and Katie Staiger.
"We had no idea at the time, of course, but what's neat is the chemistry that those three had," associate head coach Mark Pryor said of Malloy, Jones and Richburg. "Those three were really the three on that team that drove them to such a high national ranking and made it such a fun group to watch, regardless of where they were going to school."
But from the very first day, Malloy has been welcomed by every player on the team.
"Sometimes, you may see jealousy or people worried about what position she plays," Barnes said. "But this team also puts their money where their mouth is. They're very unselfish. I haven't seen one unselfish act since she's joined this team. That says a lot about this group."
Although she can't play for the Bears this season, Malloy is allowed to practice, "and she will probably be the best B-side player in the nation, which can only make us better," Pryor said.
"It's going to be wonderful to have that in the gym, to where all she's worrying about is how am I going to make this team better without me scoring a point," Pryor said. "Now, it's not going to be easy for her, because she's always played. But I think that's where she's going to experience even more growth. And she'll probably have an opportunity to maybe understand the game a little better, just from being removed from it for a little bit. She could come back an even better player."
At a practice last week on the team's trip to Colorado, Barnes said Malloy "went up and hit her first ball, and hit it really hard, and we dug it."
"I think it helps both sides. She's getting to compete, and our players are getting challenged," Barnes said. "But they're also gaining confidence, because they're seeing that they're playing right with her."
During an unbelievable four-year run at Lovejoy, the Leopards were 137-19 and won four consecutive state championships. Malloy was twice named the state tournament MVP and was the Class 3A Player of the Year for three years running.
"It was such a blessing," she said. "My coach (Ryan Mitchell), I grew with him basically my entire life. He was my first club coach and then got the job at Lovejoy, and then he was my 18 club coach (with the Skyline program). So, I started and finished with him. He's just incredible, just the life lessons that he taught me."
Pryor said Malloy has always been a winner. "I can't tell you the last time she really hasn't been successful," he said. "Being a player and then growing into a leader, to where not only her game speaks for itself, but she's able to inspire and motivate. Those are intangibles that you just don't find all the time."
Malloy has also been involved with the USA Junior Volleyball program since eighth grade, playing for the U20 team this summer that played in the World Championships in Czechoslovakia.
"It was a very talented group of girls, and they pushed me every day in the gym and made me better," she said. "I've been able to travel to some awesome places (with USA Volleyball). I'm just excited and blessed that I got that opportunity."
As a true freshman at Iowa State, Malloy ranked seventh in the Big 12 with 3.17 kills per set in league play and had double-digit kills in six of the team's last eight matches. She earned Big 12 Rookie of the Week honors twice and hit .189 with 142 kills, 119 digs, 17 blocks and 14 service aces.
"That experience was great. I wouldn't change it for the world," Malloy said. "It's got me tow here I am today, and I have nothing but good things to say about the coaches and the team there. . . . It was definitely a learning experience for me. And I realized that I'm a Texas girl. I've got to be close to home."
Although she tried to talk her out of her decision, Johnson-Lynch ultimately said, "I feel that she made the right decision. And it's hard to say that, because you want to keep everyone you can. But if they're miserable or if they're unhappy, then it's not going to work out."
If it was strictly up to Johnson-Lynch, who Barnes described as "really classy," Malloy would have received an unconditional release and been able to play immediately at Baylor. But Iowa State's athletic department has a rule that the school will not release any student-athlete to another Big 12 school.
"She was already getting inquiries from top-10 schools," Barnes said. "She could have played right away, and some of them even had a scholarship open. There were big-time schools coming in when they heard she was looking at leaving. But if she came to Baylor, she had to give all that up."
Which makes her decision all that more amazing.
Malloy has played setter and both left- and right-side hitter. But as far as her future position at Baylor, she said, "I just love playing volleyball. Just get me out there."
"We see her as one of those players that could be a six-rotation kid," Pryor said. "And I think to pigeonhole her in a spot right now would probably be a mistake on our part. But what makes it nice is her versatility. . . . It's one of those things that we'll find out once she gets going and what's going to be the best fit for her and where she can help the team the most."
The Bears, off to a 1-3 start after a 3-0 sweep of SMU on Tuesday, will host the Baylor Classic this weekend at the Ferrell Center. Baylor faces Tulsa at 7 p.m. Friday, UT-Arlington at 10 a.m. Saturday and then closes out with a match against Mississippi State at 7 p.m. Saturday.
---
BAYLOR LEGEND: Dotson Marvels at Briles' Resurrection
4:21 P.M., THU., SEPTEMBER 5, 2013

By Jerry Hill
Baylor Bear Insider
During most of a 10-year NFL career that included two Super Bowl appearances with the Green Bay Packers, Santana Dotson remembers walking into the locker room "with my hat tucked down" after another Baylor loss.
"For a few years, it was rough out there," he said.
But after watching the Bears make three consecutive bowl games under head coach Art Briles, the former Baylor All-American says he "can walk into the room with my chest pumped out."
"I marvel at somebody like Tony Dungy going into Tampa and changing the mindset and expectations," said Dotson, a 2004 Baylor Hall of Fame inductee who will be recognized as a 1990s Baylor Legend during Saturday's 2:30 p.m. game against Buffalo.
"Somebody like Art Briles going into the University of Houston and changing the level of expectancy, and then being able to go to Baylor and the Big 12 and change the level of expectancy, that cannot be sold short, whatsoever. . . . To be able to do that at two spots tells us what type of coach Art Briles is."
A high school All-American at Houston (Texas) Yates, Dotson expected the Bears to build on back-to-back bowl victories when he came to Baylor in 1987. Although they had four winning seasons in his five years in Waco, the only bowl game in that stretch was a 24-0 loss to Indiana in the 1991 Copper Bowl at the end of his senior season.
"Back in those days, if you weren't a first- or second-place team (in your conference) and had a student body of more than 30,000 or 40,000, then a lot of times the bowl committee would look the other way," said Dotson, a three-year starter for the Bears who amassed 193 career tackles, 18 sacks and four forced fumbles as one of the most dominant defensive linemen in program history.
Dotson's signature play at Baylor, though, actually came on special teams. In the waning minutes of a Sept. 14, 1991 game at Colorado, the 6-foot-5, 280-pound defensive tackle blocked Jim Harper's 24-yard field goal attempt, setting up a game-winning 35-yarder by Jeff Ireland in a 16-14 upset of the defending national champion and 12th-ranked Buffaloes.
"Once I got those big paws on it, I knew it was going back the other way," Dotson said. "I played a little volleyball with it."
Projected as a first-round pick in the 1992 NFL Draft, Dotson wasn't taken until the fifth round by the Tampa Bay Buccaneers.
"All I wanted to do was get in the door," he said. "And I knew that once I got in, there was no way I was going to disappoint myself, my family or my friends."
In 10 years with the Bucs and Green Bay Packers, Dotson had 291 career tackles, 49 sacks and 23 pass breakups. His most unforgettable moment came in his first season in Green Bay, when the Packers defeated New England, 35-21, in Super Bowl XXXI.
"The Super Bowl is the crème de la crème," said Dotson, who was on the losing end the next year when the Pack was upset by Denver, 31-24. "So, to be able to make it and play in those Super Bowls, you really appreciate it, because it's so hard to get there."
Nine years ago, when he was inducted into the Baylor Hall of Fame, Dotson said that he would "rather be 2-14 and sitting at home than lose in the Super Bowl."
"The pain doesn't hurt so much the further you get away from it," he said. "But to get there and lose that game - and we were a better team that year, on paper, than we were the year before - I still feel that way some days, I swear I do."
The son of a social worker, Dotson established the Santana Dotson Foundation in 1995 to "provide the financial and emotional support needed by challenged, yet deserving high school students to realize their dreams of a college education."
"When I went to Baylor, I told my mom that I was going to major in social work," he said. "And she said, `No, I won't let you do that.' But we laugh now, because the first thing I did was start my own foundation so I could help the kids. . . . When they get it, and you see it in their eyes that they get it, it's an astounding feeling."
While he was an emotional attachment to 64-year-old Floyd Casey Stadium, especially with that massive poster of him hanging on one side, Dotson said of the new $260 million riverfront Baylor Stadium that will open next year: "Man, that's going to be nice. Not only for the football players, not only for the University, I think it's going to be outstanding for all of Central Texas. That's something you can put on your chest and stick it out there real proud."
---
Move to End Paying Off for McAllister
5:21 P.M., WED., SEPTEMBER 4, 2013

By Jerry Hill
Baylor Bear Insider
Chris McAllister still remembers that fateful day nearly three years ago when he walked into new defensive coordinator Phil Bennett's office for the first time.
"Before he even introduced himself, he said, `We're going to move you to d-end. I'm coach Bennett,''' McAllister said. "I was a little reluctant at first, I didn't really want to do it. But my mindset was that I was going to do it if that's what they needed me to do . . . even though I wanted to play linebacker. But coach Bennett assured me that it would be a good move for me and for the team and the defense."
Don't you just hate it when Phil's right?
"I wasn't his favorite guy for a while," Bennett said of the 6-foot-3, 255-pound senior defensive end. "The league we're in is a speed league, and he was fighting to stay at 240 (pounds). He was a fast-twitch guy, I liked his toughness."
At the time, though, it had to seem a step back for McAllister. As a redshirt freshman, he backed up senior middle linebacker Chris Francis, started two games and ranked among the team leaders with 26 solos, 42 total tackles and 4.5 stops behind the line.
Playing in a four-man rotation at end with Terrance Lloyd, Gary Mason Jr. and Tevin Elliott, McAllister's playing time and production went down dramatically as he finished the 2011 season with just 10 tackles and 1 ½ sacks.
"It's definitely a lot different, just knowing that every play you have to deal with a guy that's a little bit bigger than you," said McAllister, who had played end at Converse (Texas) Judson High School before switching to linebacker right before the playoffs as a junior. "And it's a lot more technical than I thought, moving from linebacker. I didn't know rushing the passer was as hard as it is, so it took me a little longer to get it."
Something clicked last year. With Elliott gone and Mason moved inside to tackle, McAllister started all 13 games, made a career-high 45 tackles and led the team with six sacks.
Saving his best for last, McAllister had two sacks and a pass breakup to earn Defensive MVP honors in the Bears' 49-26 (actually, 49-19) win over 17th-ranked UCLA in the Holiday Bowl.
"I tell guys all the time, that wasn't me playing in that game, that was the Lord playing through me," he said, "because I was doing things I hadn't done in a while. It was a lot of fun to go out there and put a game together, one that you kind of dream of playing and one you know you can play if you just let loose and play."
Bennett said the difference in McAllister - and the defense as a whole - from the Alamo Bowl game the year before to the Holiday Bowl "was night and day."
"And you expect that. He's a worker, he's a good kid, and he knows what he's doing."
That bowl game set the standard high for McAllister and the Baylor defense, which has produced two or more turnovers in seven of the last eight games. The Bears forced three turnovers in the season-opening 69-3 win over Wofford, including a highlight-reel 25-yard return for a touchdown by McAllister on his first career interception.
"C-Mac's not going to let me live that one down," said Lloyd, a fellow fifth-year senior who starts at the opposite end.
"As soon as he came to the sidelines, he let us know that he's probably the most athletic person we'll ever meet," said senior safety Ahmad Dixon.
OK, that might be stretching it a bit. But think about this, he's a guy that can bench-press 415 pounds, recorded 32 reps at 225 pounds, standing broad jumps 10 feet, 2 ½ inches and has been clocked at 4.56 seconds in the 40-yard dash.
Those are the kind of numbers that will catch an NFL scout's attention.
"That's been a goal of mine for a long time, as long as I can think of, was to play in the NFL," said McAllister, who also recorded one of the team's six sacks and national-best 15 tackles for loss in the opening game. "I realize I have a long way to go and a lot of things to work, and I'm always striving to get better. But it's definitely a goal and one that I think is realistic for myself."
Although he called his interception return "my best J.J. Watt impersonation," McAllister said he likes to pattern his game after Dallas Cowboys defensive end DeMarcus Ware and Pittsburgh Steelers linebacker LaMarr Woodley, "guys that do things at linebacker and come up to the line of scrimmage. That's the type of player I kind of see myself as."
Playing alongside him for the last two-plus seasons, Lloyd has seen "Chris come a long way. He put on a lot of weight . . . and he feels good where he's at."
Actually, beefing up from 240 to 250, "kind of happened naturally," McAllister said.
"It was never a concern. I was about 240 playing linebacker. And the year I moved to defensive end, it was an easy jump up to 255."
Last year, McAllister ranked third on the team with six pass deflections - cornerback Joe Williams (12) and safety Sam Holl (7) were the top two. But defensive line coach Chris Achuff "took away my athletic card" for McAllister dropping a pair of possible interceptions.
He got it back Saturday night, when he batted up a Michael Weimer pass to himself and sprinted 25 yards for the touchdown and a 28-0 Baylor lead.
"Last year, there were a couple tipped passes that I could have caught, and the coaches gave me a hard time for it," he said. "So when that one went up, I knew I wanted to catch this one and show them that I can still catch the ball."
Linebacker Eddie Lackey, who scored on two of his team-high four interceptions last year, said his key "took me to the backside of that play, so I didn't really see what happened."
"By the time I turned around, I saw him running in and pointing to the end zone. So, I just took off running to go down there and jump on him or whatever," Lackey said. "That was the funny part. You never thought a d-lineman would get an interception, much less score a touchdown off of it." Baylor's active career leader with 9 ½ sacks, McAllister said leading the team in interceptions "wasn't on my mirror when I wrote down my preseason goals." But he does have a rather ambitious goal of averaging a sack per game.
"And I think it's a realistic goal," he said. "It's just something that every day I strive for and keep in the back of my mind."
McAllister will try to double his season total when the Bears welcome an 0-1 Buffalo team for Saturday's 2:30 p.m. game at Floyd Casey Stadium. The Bulls played second-ranked Ohio State much closer than expected in a 40-20 loss at Columbus, Ohio, last Saturday.
"We know the competition is going to get better, you've got to raise it up," said Bennett, whose defense held Wofford's triple-option attack to 2.9 yards per rush and 233 yards total. "But the challenge last week with those guys, that's not an easy offense. They can make a lot of great players look stupid. It's a great equalizer. And fortunately for us, it wasn't an issue."
---
Burt Uses His `Big Heart' at Back End of Defense
5:42 P.M., WED., AUGUST 21, 2013

By Jerry Hill
Baylor Bear Insider
Don't let sophomore safety Terrell Burt's 5-foot-10, 185-pound frame fool you. This guy can flat-out hit.
"It's just my heart. I've got a big heart," said Burt, the starting cover safety on Baylor's defense. "I don't see size as a big deal to me. I just see it that whoever has the biggest heart is the one that's going to succeed and do the best."
As the backup behind senior starter Mike Hicks last season, Burt was one of just three true freshmen who got on the field, joining ends Javonte Magee and Jamal Palmer.
"I think we might have upgraded," said third-year defensive coordinator Phil Bennett, who added Burt, tackles Beau Blackshear and Trevor Clemons-Valdez and cornerback Demetri Goodson to an experienced defense that returned seven starters. "He's what we've sort of evolved to. . . . He's a knowledgeable guy, great athlete; he's a corner playing safety, good tackler. Not so much (corner) size, but corner speed. And that's what I care about. He's a good tackler, smart, trustworthy."
In limited action, Burt had two solo tackles and three assists, making a season-high two spots in a win over Kansas and a special teams solo stop in the win over second-ranked Kansas State.
"That helped me a lot," Burt said of the experience he gained from last season. "Now I know what to expect. I was nervous, but it was a great experience and it was like a dream come true, because that's what I've always wanted to do."
With the help of veterans like Hicks, Sam Holl and Chance Casey, Burt learned the ins and outs of Bennett's defensive system, "because Bennett's defense isn't easy. You can't come in and just think you're going to know it all."
Burt also got his feet wet - or maybe more like his ears - by getting an earful from Bennett. It just means he cares about you.
"Freshman year, I heard it all. I heard all the bad things he said to me," Burt said. "I still get yelled at sometimes, but it's better now.
"It's just Bennett's way of coaching. And it's a good way. You'd rather have a coach that yells at you and gets on you so that you can be the best, instead of having a coach that tells you that you did good when you really didn't do good. Bennett's just doing what he's supposed to do. It's coaching, that's all it is."
The defense returns 12 players with starting experience, including senior defensive backs Ahmad Dixon, Goodson, Joe Williams, K.J. Morton and Tyler Stephenson, which means the pressure is on Burt to produce and fit in.
"I'm not going to sit here and lie," he said, "because I know I have to come in here and prove something and show that I can play. But I'm ready for it."
While Burt and the coaches don't see his lack of height or size as a flaw or hindrance, the sophomore safety said, "I guarantee you when people look at my size, they're like, `Man, he's small!''' Burt said. "But like I said, it's not about the size, it's about the heart. And I'm going to go out there and play every play like I've got a big heart."
Did You Know?
Burt ran on Wylie (Texas) High School's state champion 4x100-meter relay squad as a junior in 2011.
---
New Stadium 30 Percent Complete, Taking Shape
12:42 P.M., SAT., AUGUST 17, 2013

By Jerry Hill
Baylor Bear Insider
Looking over the $260 million Baylor Stadium that's under construction on the north bank of the Brazos River, Baylor Director of Athletics Ian McCaw marveled at how you can now "get a sense of the size and scope of the stadium."
"It's amazing to see how this has all come together," McCaw said during a media tour of the stadium on Friday. "It wasn't long ago that was just a bunch of dirt being pushed around. And now today, you can really get a sense of what the stadium is going to look like. Earlier in the week, somebody described it as the making of the Roman coliseums."
Jim Healey, Senior Project Manager for Austin Flintco, said 460 workers are currently on site at the 93-acre site, where crews have poured 28,000 cubic yards of concrete and assembled 3,200 tons of reinforcement steel.
The stadium is 30 percent completed, and crews have started work on the 900-foot-long, 35-foot-wide pedestrian bridge that will cross the Brazos River to connect with the Baylor campus. Despite one of the wettest Julys on record, Healey said there has only been one day of work lost to weather and construction is right on schedule, "even though it's a difficult schedule, but we knew that at the start."
"It's exciting to see this, as you really get a sense of what this is going to be like from a fan standpoint when they come in here about a year from now and see the first game played," McCaw said. "It's going to be a great fan experience. We have great opportunities for people to tailgate, sail-gate, lots of fan amenities. . . . We want to provide a great experience for our fan base."
That includes a lagoon on the east side of the stadium, where fans will be able to dock their boats in slips, just outside of the entrance. Drained during the early stages of the construction, the lagoon has been filled back in "and looks about what it's going to look like," said Jeff Horn, Senior Superintendent for the project, "until they add some landscaping and vegetation around it."
"It's going to be hugely popular," McCaw said of the opportunity to dock boats at the stadium, a unique feature that only stadiums at Tennessee and the University of Washington can match. "That's probably the most frequent question I'm asked is how can people take a boat to the game and dock it and sail-gate before the game and enjoy it.
"We're still working with the city in terms of the exact number of slips that we'll have available. But there will definitely be ample opportunity, I think, both in the lagoon area right here and also up and down the river where people can come and dock their boat and either come across the bridge or get to the game in some form."
For the players, McCaw sees the stadium as "being a collegiate version of Cowboys Stadium on a campus setting," comparing it to the Dallas Cowboys' stadium in Arlington, Texas, where the Bears will play Texas Tech for the third time this fall.
"The players will have a great experience - the locker room; we've got a great recruiting room downstairs at field level," he said. "And we'll have a 5,000-square-foot video board located here in the south end zone; it will be one of the largest in the country; along with ribbon boards and everything to make it a tremendous fan experience and student-athlete experience."
What makes the 45,000-seat stadium so unique is its location right off Interstate-35 and adjacent to the river. "I don't think there's a school in the country that has both of those access points," McCaw said.
"It's going to be phenomenal," said sixth-year Baylor head coach Art Briles. "The great thing about it is the people that made it happen . . . had enough foresight to say we've got a river, we've got a highway that carries 44 million people a year, we're Baylor, let's put it out there where everybody can see it. Not many people can do that."
But while McCaw has made regular visits to the construction site, including Friday's tour, Briles said he hasn't been, "not once."
"And I probably will not until it's complete," he said. "That's just the way I am, because if the clock's not running, you know you're not running plays. As soon as we get in there and get going, then that's when we get going. But right now, we've got stuff that we need to take on right now. . . . I hope we really play well this season to earn the right to represent that stadium next year."
Briles said he's already seen the fruits of the stadium, but now "it's honestly a deal where we don't have to sell it, because it's actually reality. People can see it. They drive up here, and you can see it. It's a beautiful structure. It's going to be hard for anybody to top it. I'm sure a lot of people are going to try, but we're going to make it hard on people. It's about as good as there is."
With the top steel girders being installed now, 128 feet above the ground, you can see that the stadium is starting to take shape. By the end of the calendar year, most of the outside work of the stadium will be done, but the crews will still have months of inside work on the bowl of the stadium and suites to complete.
"When you look at it today, you can believe that it's within a year," McCaw said. "I wasn't sure it would be within a year away if you would have asked me a few months ago. But it's really amazing. It's coming together very quick at this point. We're looking forward to Aug. 30, 2014, and we'll play SMU in the opening game."
While the initial seating capacity is 45,000, McCaw said "we have the ability to add 10,000 more seats on the east side, so we could take the capacity up to 55,000 in the future."
And that doesn't include the berm seating below the stadium on the south end of the stadium.
"We anticipate that we would have anywhere between 2,000 and 3,000 people that could sit in that berm," McCaw said. "(It's) a chance for particularly families to bring a blanket and sit down and enjoy a game. We've seen a few stadiums that have had that, and we think it's a great feature and should be a great opportunity for people to enjoy the game."
Other planned features for the stadium include a Heritage Plaza near the scoreboard that will showcase Baylor's storied past and a Hall of Fame on the east side of the stadium that would open in 2015. Fundraising has also started for a proposed alumni events center that's expected to be completed in 2015 at a cost of $19.5 million.
Additionally, dirt work has begun on a new track stadium on the east side of the lagoon, and it is expected to be completed about the same time as the football stadium.
"This will really give us a set of facilities, upon completion, that will allow us to compete with the best schools in the country," McCaw said. McCaw credited Briles and the success of the football program for getting the stadium project going in the first place.
"Obviously coach Briles has been the key," he said. "He's done a tremendous job over the last six years in building this football program and building a winning program. And that's enabled us to create some momentum and get our donor base involved and energized and behind a project like this. And obviously, winning back-to-back bowl games and a Heisman Trophy had a lot to do with the momentum we needed to create the excitement for this project to become a reality. And it's great to see it happen."
---
BU-Ex Trades in Football Playbook for Bobsledding
12:33 P.M., THU., AUGUST 15, 2013

By Jerry Hill
Baylor Bear Insider
Two years after suiting up for the last time, Thomas White knows that he "would have a hard time saying no" if an NFL team came calling.
But for now, the former Baylor wide receiver has turned in his football playbook for the Olympic dreams of a bobsledder. That's right, a Plano, Texas, native who might see snow once a year if he was lucky, is hoping to compete in the 2014 Winter Olympics in Sochi, Russia.
When he was waived by the Canadian Football League's Winnipeg Blue Bombers in 2011 after a stint on the practice squad, White made the commitment that he wasn't going to "sit around and wish and hope (for a pro football career) . . . I'm going to train for something that I know I'll have a chance to do and compete in."
"I figured that was the time to actually give it a shot," said White, a former walk-on who ranks among Baylor's all-time best with 92 career catches for 1,194 yards and 12 touchdowns.
The 27-year-old White just returned from Calgary, Alberta, Canada, where he was competing for a spot as a "pusher" for the U.S. two-man and four-man bobsled teams. But the final selections will not be announced until January, following a training session this fall in Lake Placid, N.Y.
"In the context of what the Trials usually looks like, it's clear-cut. Like in track, it's the top three that go to the Olympics," said White, who anchored the regional-qualifying 4x200-meter relay team at Plano West High School in 2004 and recorded top marks of 10.6 in the 100 meters, 21.8 in the 200 and 22 feet, 6 inches in the long jump.
"The way we do it is a little different. You almost look at this last week as more of an evaluation camp. The Olympic team won't be named until January, but I did well, especially in the physical testing. I finished fifth overall in our combine and had the fourth-fastest time in the 30. The ice testing got better as the week went on, but a lot of that is just familiarity of the surface. . . . Once we got on to the ice pushing and we all get acclimated, that's kind of when things will start to shake out."
So, how is that a former college football receiver who was in camp with the Baltimore Ravens and got a tryout with the Green Bay Packers wind up as an Olympic hopeful in bobsledding?
His introduction to the sport actually came while he was still playing at Baylor. Lee Hays, who had just been hired as the Bears' offensive coordinator under then-head coach Guy Morriss, had a brother that was a silver medalist in 2002 and was competing at the '06 Games in Turin, Italy.
Todd Hays had played linebacker at the University of Tulsa and two years with the CFL's Toronto Argonauts and is now the head coach for the USA women's bobsledding team.
"It was the winter of '06, and I paid extra special attention to the bobsledding events because Todd Hays was competing," White said. "Just watching that kind of opened my eyes. These guys are big, strong, and it definitely looked real smooth, fast, fun. It's obviously a little different when you go down it for real, but I would say that winter was where my awareness was definitely raised. But at the time, I was still thinking football."
As a junior at Baylor in 2007, White led the team in touchdown catches, receiving yards and yards per catch, hauling in 34 passes for 475 yards and eight TDs with a 14.0-yard average. In his only season in Art Briles' system, White had a career-high 35 catches for 385 yards and two TDs and signed a free-agent contract with the Ravens.
Two weeks into his first NFL camp, though, White found out that he had a severely herniated disc in his back that required surgery.
"You go from thinking, `Man, I just can't play,' to `Wow, this is really bad! This is affecting my quality of life. And I'm not going to have any kind of career if I don't get this fixed ASAP,''' White said.
The next year, he had a "real good workout" with the eventual Super Bowl champion Packers. "Under different circumstances, maybe it would have worked out. But it was a risk they didn't have to take."
"There are so many good players out there that they don't necessarily have to take a chance on somebody, even if maybe you have more talent than the next guy. The window in the NFL is so small. . . . You look at a guy like Kurt Warner, who was stocking shelves and turned into a Hall of Fame quarterback. How many other Kurt Warners are out there?"
As it turns out, White might be more like Herschel Walker than Kurt Warner. While still playing in the NFL, Walker earned a spot on the USA team and finished seventh in the two-man bobsled at the 1992 Winter Olympics in Albertville, France.
Like Walker, the 6-2, 234-pound White has the kind of explosive speed and strength that it takes to push a bobsled that weighs more than 400 pounds for a fast start at the top of an icy track.
A personal trainer who works out at CrossFit Dallas Central, White competed at last year's America's Cup and then won an open tryout last month in Lake Placid to work into the pool of Olympic aspirants.
"It's kind of a thing where you just learn as you go," White said. "Flipping the sled, working on your push technique - the coaches, obviously, will break thins down like that - but in terms of just the day-to-day aspect, you kind of get thrown into the fire and you figure out how to do all those things."
White added that "there's a lot more to it than just running fast and pushing."
"It's a very blue-collar sport. It's not a sport where you have your own pit crew working on things, and you just push and sip hot chocolate on top of the mountain. You're constantly working on the sled, polishing the runners. It's definitely a grind."
While you're not getting hit in the knees by 240-pound linebackers, bobsledding is obviously not without peril. White, who's been in two crashes thus far, compares it to "getting kicked down an icy hill in a can."
"When you're going down the ice, there's a constant noise and vibration," he said. "And for a split second it gets real, real smooth. And you're like, `Hmmm." And just as soon as that thought enters your head, the ice hits your head. All of a sudden, you're like, `OK, I'm on the ice. My shoulder's getting a little hot here. I better try to curl up in here and ride it out.' But it's definitely something you don't forget."
Fortunately, White said, USA has a good set of drivers for the two-man and four-man bobsleds and "you don't see some of the real catastrophic crashes that you see from some of the more developing teams who are just getting into the sport."
"I've seen many times people catch air and land on their head and get knocked out," White said. "For us, it's usually more of a slight tip-over. But no matter how you go over, it's definitely an experience that you're not going to cherish. It's pretty rough."
White likes his chances of making the team and "being the one that gets to march into the stadium and represent the U.S.," he also understands that there is "unbelievable depth" among the American hopefuls.
After this Olympic cycle, White plans on "getting into something a little more business-minded and maybe start a career . . . But I'm never going to stop training."
"And if that opportunity presents itself again, whether it's (2018 or 2012), regardless of whether I go these Games or not, it still becomes something worth exploring."
Although most of Baylor football's success has come after he left, White said he has enjoyed watching the Bears' recent run with three straight bowl appearances and back-to-back bowl victories.
"You could definitely see it (when I was there)," he said. "I tried to people back then how much of a difference coach Briles would make, and has made now, to the program. Just with his infectious enthusiasm, why wouldn't you want to come to Baylor and play for him? I just wish I could have had a little more time under him with the maturation of (2011 Heisman Trophy winner Robert Griffin III) over the years. I think it would have been a great time, but I was fortunate to at least catch part of it."
---
Maytin Opens Professional Career With Three Event Wins
10:58 P.M., TUE., AUGUST 13, 2013

Former Baylor All-American Roberto Maytin has wasted no time taking his impressive set of doubles skills to the next level.
This summer after completing a four-year career at Baylor, Maytin has partnered with three different players to win Futures events in Florida, Missouri and Venezuela.
The Valencia, Venezuela native opened the month of June by teaming with Marcelo Arevalo to conquer the 32-team doubles draw at the Innisbrook Men's Open in Innisbrook, Fla.
A little over a month later, Maytin partnered with Daniel Garza to secure the USTA Freeman $10,000 Men's Futures title in Joplin, Mo. The pair won four matches in a row, all in straight sets, including knocking off Dekel Bar (No. 793) and Leon Frost (No. 1,427) in the final.
For his latest win, Maytin returned to his home country and paired up with fellow Venezuelan Luis David Martinez to earn a victory in the VEN F3 16-team doubles draw. The pair knocked off the No. 1 seeded team of Alex Llompart and Mateo Nicolas Martinez, 1-6, 6-2, 12-10, in the final to earn the crown.
Maytin has also reached the final of two other events this summer.
At Baylor, Maytin racked up an 89-32 record in doubles matches, while being named an ITA All-American doubles player in 2011 when he set the school-record with 39 doubles wins.
---
Trip Back to Africa Brings Memories, New Partnership
12:33 P.M., MON., AUGUST 5, 2013

Then I heard the voice of the Lord saying, "Who shall I send? Who will go for us?" And I said, "Here am I. Send me." - Isaiah 6:8
By Jerry Hill
Baylor Bear Insider
Starting with his freshman year, Prince Kent kept saying he was going to go to Kenya with the Baylor Sports Ministry team.
"But I feel like I was always pushing God aside and telling myself, `I'm going to do it next year,''' he said.
Out of "next years," the senior linebacker from Norcross, Ga., was part of the 56-person team that trekked to Ndola, Zambia, and Nairobi, Kenya, back in May for Baylor's fifth mission trip in as many years.
"I'm coming up on my senior year, and my life just made a turn," Kent said. "I've just got to accept what God has for me and stop worrying about training, stop worrying about football and put it all in God's hands. And that's what I did. I was extremely nervous, because I didn't know a lot of people on the other teams. I'm a shy person, so me opening up to people is like trying to open a bottle of win without that little cork screw. But it was amazing. Every day, I just tried to find somebody new and get to know them and just be myself. And let them accept me for who I and who I love, which is God."
Kent kicks off his senior football season when camp opens Monday, but it will be tough to top the experiences he shared with the rest of the Baylor Sports Ministry team on their two-week trip to Africa.
"It's hard to say (the trips) get better every year, but I had an old friend that used the term, `better than terrific,''' said Baylor Athletics Chaplain Wes Yeary, who led the mission trip for the fifth consecutive year. "And it made me think of this trip. It doesn't seem like they can get better than they were, but it was phenomenal. I think part of it for me was the group and how they came together and the love they had for each other; and then their willingness to serve and give of themselves, respond to the situations and circumstances that we surrounded them with. It was awesome."
That started with a 36-hour journey, beginning with a bus ride from Waco to Dallas and culminating with a three-hour flight from Nairobi to Ndola. In between was a nine-hour flight to London, a 7 ½-hour layover in the airport and an 8 ½-hour flight from London to Nairobi.
"(The layover) was the worst part," said Hailey Cowan, a senior with the Acrobatics & Tumbling team who was making her first trip. "We didn't know what to do with ourselves."
Instead of focusing on the negative, though, the group made the best of a bad situation. "We played lots of Uno," said volleyball junior Hope Ogden, who was making her second trip.
There was bonding, rather than griping.
"Wes and I were talking about this the other day, but I think one thing that draws people really close together is being in tough situations together and seeing how you react," said soccer junior Alexa Wilde, one of the 40 first-timers on the trip.
"It's been 20 hours already . . . you're loopy, you're cranky. But you know what, nobody was really crabby. You see people in these tough situations when you should be crabby and you should be disappointed and we should be snapping at each other. And no one did that."
Ah, we FINALLY arrived in Ndola! We were a mix of sleepy, exhausted, disoriented, dirty, and really, really excited. (If this blog thing had emoji's or avaters, I could express more accurately our physical condition.) Personally, I was super excited and I couldn't shake how happy I was to be here. I couldn't stop smiling, and I remember thinking, "Okey-dokey God, work in and through us here!"
- Sune Agbuke, junior, women's basketball (from May 20 blog post at www.baylorbears.com/sportsministry)
After spending the four previous trips exclusively in Kenya, the group branched out this year and incorporated a week in Zambia and a new ministry partnership with Northrise University.
"In Kenya, we're working with little kids most of the time," said Levi Norwood, one of nine football players on the trip. "So it was cool to see guys our age and the work they're doing with the little kids there . . . just being able to hang out with them and help them with what they're doing. We didn't have to go and teach them anything, because they already knew what they were doing. We just joined in with them."
As part of Baylor's mission for long-lasting results - rather than "one-hit" or "two-week" wonders - Yeary said "there's just unlimited potential for a partnership" with the two Christian universities.
"One neat part of that partnership was the students there went with us every day where we were," Yeary said. "So, they were exposed to some of the needs in those areas as well and how they can continue with those relationships there."
And whether it was the Mapalo School, the Arthur Davison Children's Hospital or Arising Life, a rehab and empowerment house for orphans and abused children, all of the ministries in Zambia were led by Northrise graduates.
"For me, it was just mind-boggling how many just faithful servants said, `Yes, I'll serve wherever, however or whatever,''' Yeary said. "And it blows me away how He has provided for them and used them to impact so many lives."
These kids, let me tell you, love life! They love everything about it. They do it with a smile on their face and just very vibrant energy is around. They sing to Jesus and they know He loves them. It is so cute to hear when they sing "Jesus Loves Me," and when they get to the part, "Yes, Jesus loves me," they all scream, "Yes I know!" It is cute, but moving. It is moving because they know it. They rely on it. It is all they have.
- Scott Beckwith, AKA Bruiser the Bear (from May 22 blog post)
Every time the group drives up in the bus, they are greeted by adoring children with ear-to-ear smiles and the kind of hugs that never end.
"I think I have a little family over there, honestly," said Agbuke, who was making a return trip. "They're like my siblings. I think about them all the time. . . . It's a weird feeling to be in Africa and feel so at home and know that you have to go back."
"My kid was from the (Mukuru) slums, and he wasn't there the first time we went to the slums," said senior football player Joe Williams, another returner. "So, I didn't see him until the last day we were there. We had this big clinic at the park, and all the kids were there. He finally walked up late and found me, and we like a little moment."
Ogden and Cowan shared one of those moments at the children's hospital in Zambia, where they came across a boy "wearing these cute little Spiderman pajamas."
"We were just joking around with him and trying to make him laugh," Ogden said. "And we talked to his mom and asked her what was wrong with him. . . . She pulls back the blanket, and he has this metal cage over his leg, and his leg is just scorched, like you can see every muscle. It looked like the most excruciating pain I've ever seen in my life."
But with the hospital visit, "this boy is just lit up," Ogden said.
"I can't even imagine the pain he was going through, so we just sat and prayed for this little boy. And the mom was just so thankful. She was just so joyful that we were there. And you're like, we're doing nothing compared to what this little boy is going through. But she was like, they're going through this hard time, but they understand that God's plan is so much bigger for their lives."
Walking through one of the villages after a trip to the downtown market in Ndola, Kent had a chance front-porch visit with a family and told their daughter about the possibilities at Northrise University and the opportunity for a scholarship.
But he walked away with a tinge of frustration when she said she didn't have a way of making it down to Northrise. "I was just like, `Man, there's no hope for these kids here to get the education they need," Kent said.
The next day, though, he got a call that there was a visitor downstairs that wanted to talk to him.
"I was like, `Wait. What? Someone's here for me in Africa?' I was kind of scared. I didn't know who it was," he said. "But I went downstairs, and it was actually the girl I had invited. I took her to the admissions office, and she got all squared away with everything and was able to get into the school. It was just a blessing to see that God makes ways. And no matter what the situation you're in, He is always going to be there to bless you."
Another significant change in this year's trip was a break in the middle that included a visit to the famed Victoria Falls and a safari in Botswana.
Between one of the Seven Wonders of the World (Victoria Falls) and an African safari, I'm not sure there's a place more like Heaven. As (soccer's) Leah Aultman and I crossed the bridge at Victoria Falls, we just stopped in the middle, getting completely drenched by the Zambesi River and admired the perfect rainbow on our path. Who other than God could come up with such an incredible image, and create the majestic animals we saw on the safari? We have witnessed a lot of heartache this week, but I am more sure than ever that there is a God and He is so good.
- Hope Ogden, junior, volleyball (from May 27 blog post)
Back on the familiar terra firma of Kenya, the team was reunited with Walter Machio and Boniface Mwalimu. They have been partners with the Baylor Sports Ministry team since Year One.
Splitting up into three groups, the team visits the Langata Women's Prison, the Nairobi West Men's Prison and the Industrial Area Remand Prison.
"It was nothing like the one we went to last year," said Williams, who was part of the group at the Industrial prison. "We were right in the middle of their courtyard, so there were probably at least 500 prisoners just standing around and watching the certain people do the sports we were teaching. . . . It was awkward at first, until I started talking with a few of the prisoners and finding out who they really are. They started showing me around and showing me the different stuff they actually do."
And his new friends also taught him a few dance moves.
"They taught me a whole dance," Williams said. "I just wish I could remember the whole thing to a tee. That way I could perform it."
That trip to the prison also brought home to Williams the message that you have to "take advantage of every opportunity we get."
"Just being in the prison, we met a lot of talented people with different skills," he said. "And all they really need is just the opportunity to go express it to the world. And they can make a lot of money for what they do. But that (opportunity) is what they don't have, and that's what we do have over her. It's like, why wouldn't you take advantage of the opportunity."
Despite the fact that the women's criminal offenses ranged from murdering spouses to stealing food for their children to survive, the guards treated them as their sisters in Christ with love. It was obvious that they truly cared for the future of the women and wanted them to find God. The entire experience was so humbling that the women were so warm and inviting and were able to succeed in the drills and have fun in the games despite a language barrier.
- Gillian Chant, junior, equestrian (from May 28 blog post)
That same language barrier can be extremely difficult in dealing with the "street" people in Nairobi, where Boniface faithfully feeds them milk and bread early in the morning, before they have a chance to get high on the glue they use to mask their hunger pains.
"Everyone kept saying that they're all addicted t glue, and I realized that and expected to see that," Cowan said. "What I didn't expect to see was the women sniffing glue and then breast-feeding while they're doing it. Those babies are getting those chemicals."
"It makes you mad, but what can you do? What can they do?" Agbuke said.
Wilde said the language barrier can be frustrating, "because you have to learn how to express the Gospel to them in other ways - body language or just a lot of patience."
Thirty minutes into a conversation with a lady named Magda, Wilde was confused why she wasn't eating the food that was provided.
"We were like, `Why don't you want to eat? It's right there. Everybody else is eating,''' Wilde said. "And then we realized that she had a daughter that she was saving it for the whole time, which was really cool. But it was definitely a language barrier thing."
Later that day, the group did some yard and cleaning work at Boniface's Liberty House in Kitengela, where he helps kids get off the streets.
"The unique thing to this year was that some of the boys that he had gotten off the streets were there," Yeary said. "Usually they're off to school when we're there. . . . They were like 7 when they were on the streets, but now they're both wanting to go to college. And I think we've gotten enough money to help them with their tuition to go."
The fence that the group built last year was still up, "and the field we had cleared is all beans now," Yeary said. "We were trying to help him with irrigation. It's a work in process. But it was really neat seeing what's happened since we first went there."
What amazes me is the amount of sacrifice that Boniface has made in his life in order to help out others. His devotion and trust in God, even in times of uncertainty is truly inspiring. Not only did Boniface give his life to serving the children through ministry, he took an extra step by sacrificing many things in order to bring in six extra children.
- Alexis Humenik, sophomore, equestrian (from May 29 blog post)
One of the more defining moments on the trip happened in the Mukuru slums, when one of the boys brought out a ball to kick.
"It was this little - like you could fit it in your palm - deflated plastic ball with a huge hole in it," Wilde said. "They're like, `Yay, let's play!' And I'm like, `OK, what are we going to do with this?' But they find things to do with nothing. And then we got a real soccer ball from I don't know where it was in the slums. Some kid brought it over. So, we were scrimmaging with it, and had rocks set up for the goals. And then we accidentally kicked it in the river."
Ogden said when the ball went in the river, the immediate reaction from the Baylor group was, "OK, it's over. The ball's gone."
"We don't even dip into Lake Brazos, and it's not even that dirty compared to what's in the slums," Wilde said.
But she looked up and saw what looked like a "stampede of kids chasing this ball around."
"It was really cool just how much they value a soccer ball because of how much joy they can get out of it," she said. "And when this kid grabbed it out of the water, everybody was celebrating, and they were following this kid around. He's running with the ball in his hands, like he just won nationals or won a million dollars. It's just cool to see how much they value the little that they have."
Like the ones that have gone before them, the group came back with that message etched in their minds: Appreciate what you have.
"I have two sisters, and I came back really aware of everything I have," Cowan said. "And they didn't experience what I experienced, so I was really frustrated with them. It was really hard for me to sit back and realize, `OK, they weren't in Africa. They didn't see what you saw. It's OK, calm down.' For me, it was just being frustrated with how much people take things for granted here, when I was that person just two months ago."
Krissi Fitzpatrick, a volleyball sophomore and first-timer on the mission trip, said she was thankful that "God put me here at Baylor and gave me what I need - gave me more than I need - for a reason."
"And I guess I'm taking it as, `Thank you, God.' Now, what can I do to spread that to other people that need it, in my community, or even to a friend who needs advice? That's the main thing I learned was to keep giving, because that's what God wants."
Often times in America, when we are given an object we claim that object as ours. Today, when a kid was given a water bottle, he took one sip and passed it to his friend, who passed it to his friend, and so on. The slum is a great definition of what a community should be like; everything is shared.
A baby was standing in the street with a runny nose and another child, who hardly knew her, walked up to wipe her nose with the hem of his own shirt. What if the whole world followed God's commandment to love thy neighbor as faithfully as slum children do? What if sharing overcame greed? How beautiful might this world look.
- Jennifer Gueldner, senior, track and field (from May 30 blog post)
Here is a roster of the 56 students, athletes, coaches, managers and Baylor staff that went on African mission trip:
Acrobatics & Tumbling (2): Stephanie Bohmler, Hailey Cowan
Club soccer (7): Lauren Azan, Lauren Bagwell, Claire Dykeman, Haley Harris, Jessica Loyd (2010-12), Mackenzie Pfitzinger, Elizabeth Sauer (2011-12)
Equestrian (4): Gillian Chant, Alexis Humenik, Meghan Murphy (graduate, 2011-12), Breanna Mutzig
Football (9): Josh Benenoch, Taylor Douthit (graduate, 2011), Cordarius Golston, Prince Kent, Kevin Mitchell, Anthony Moore, Levi Norwood (2012), Bradley Willard, Joe Williams (2012)
Soccer (3): Leah Aultman, Alexa Wilde, Hadley Young
Spirit Squad (6): Scott Beckwith, Carly Jones, Megan Kamrath, Michelle Pratt, Reagan Volke, Cassidy Walker
Track and Field (6): Jennifer Gueldner (2011-12), Jenna Henrich, Kimberly Parr, Michelle Ratliff, Kaylyn Schultz, Jessica Shadley
Volleyball (6): Kristina Fitpatrick, Liz Graham (graduate, 2010-12), Samantha Hill (2012), Adri Nora, Hope Ogden (2012), Jordan Rice (graduate, 2010-11)
Women's Basketball (6): Sune Agbuke (2012), Rachel Carson, manager (2012), Epiphany Clark, GA, Makenzie Robertson, Kaylin Shillinglaw, manager, Shanay Washington
Staff/Leaders (7): Kim Scott (2009-12), Wes Yeary (2009-12), Ellen White, Greg White, Sara Solis (athletic trainer), Robert Perez (video, 2012), Dr. Ted Phipps
---
Masonry Makes `Architectural Statement' at Stadium
12:33 P.M., FRI., JULY 26, 2013

By Jerry Hill
Baylor Bear Insider
Jim Heley can't escape the minute-by-minute reminders of the countdown clock that "tells us exactly how many days, hour, minutes and seconds" are left before the 2014 football season opener at the new riverfront, on-campus Baylor Stadium.
The Senior Project Manager for Austin Flintco, Heley said the construction crews working on the $260 million stadium "feel pressure every day," especially with that opener now just 399 days away.
"We maintain our schedule of 3,000 activities and watch to see when things are happening at what time," Heley said. "When they start late, we get warnings. And then we do things to get back on schedule. There's always going to be something that delays a part of the job . . . Whatever needs to happen in an area, there are always ways to adjust our schedule to get around it and work with it."
While "some guys don't like that" constant reminder of the countdown clock, or even a monthly calendar with days marked off with X's, Heley said "it's the reality we live with, and it's just part of the job."
Jim Trayler, vice president and project manager with the subcontractor Quality Brickworks that was awarded the brick and masonry contract, said Austin Flintco "is governing that schedule, and we're going to work with whatever schedule they come up with."
"There are a few things we can do to manipulate the schedule," Trayler said. "We can add guys, we can work more hours. But either way, whether it takes lights or whatever, the masonry will finish in sequence with the rest of the project and be done on time."
With much of the concrete precasts already in place, the next "big phase" of the stadium construction began a few weeks ago when the Quality Brickworks crew started laying bricks and doing the masonry work that makes up "the skin of the building," Heley said.
"That's the first real architectural statement that you see in the project," he said. "You've been seeing the structure go up; the structure goes up fast. And the skin of the building, wrapping around, is really going to kind of set it off. You're going to finally see what the thing's really going to look like when we're done. So, it's good to see that happen."
Quality Brickworks of Waco is one of several local subcontractors used in the project in Baylor's emphasis to partner with Waco companies.
"The start of the process was a bid out to the public, and we had some good participation," said Jeremy Morford, Project Manager with Austin Flintco, who's in charge of the "building skin and envelope, including the masonry." "We were pleased to bring in Quality Brickworks, a local contractor here in Waco. They have a great reputation as good, quality masons. No pun intended."
When Quality Brickworks was awarded the contract, Trayler said it was exciting "to report to my guys that we were going to be a part of this Baylor Stadium and work for Baylor University." Many of their bigger projects have been in Austin and the Dallas/Fort Worth area, but "this feeds back into the local economy and most of our craftsmen are probably within walking distance of Baylor Stadium and they're a part of the culture here."
Before the first brick was laid, though, a composite mock-up of a wall was built in the parking lot where Austin Flintco is headquartered.
That gives the architects a chance to look at the mock-up, "so they can see the coursing of the brick and how everything comes together," Heley said. "And they can approve that before we actually go in the field and start working."
The selection of the different bricks for the stadium walls "was quite simple," Morford said, because the "façade of the building is tied in, architecturally, with the rest of the campus."
At the base of the wall is a four-foot white band built from burnished block that is "pretty typical around campus," he said. Including visible areas in the main and upper concourses, there will be approximately 100,000 burnished blocks used in the stadium, each weighing 35 pounds, and "I expect our craftsman to lay about 160 to 200 of these every day."
Above that white band is the red-brick look that has become the standard at most Baylor Athletic facilities, including Baylor Ballpark, Getterman Stadium and the Hurd Tennis Center. But instead of the more common modular bricks, the stadium is using "oversized brick" that is 12 inches long by four inches tall and four inches wide.
Trayler said there are about three of the bricks per square foot, "so there are about 450,000 of these (red bricks) that our craftsman will need to lay, and we expect our guys to lay 350 to 500 of these every day."
On Wednesday, the Quality Brickworks crew was on the southwest corner of the work site and putting the finishing touches on the first of 37 serrated walls that will make up the outside envelope or "skin" of the stadium. That first wall is 58 feet tall and approximately 64 feet wide.
Baylor Director of Athletics Ian McCaw, who toured the site on Wednesday, said, "It was exciting to put on the hard hat and go up to the Founder's Suite, Club and Loge areas to get a feel for the sightlines and scope of Baylor Stadium."
"The views of the field and campus will be spectacular, and the Stadium will have the most modern amenities in college football." McCaw said the familiar red brick will "blend in beautifully with the rest of the athletic facilities and University buildings."
"I sure hope that we ordered a lot of bricks," he said, "because it will be an enormous structure."
With the exterior wall ultimately extending from the southwest corner to the southeast corner, forming the horseshoe shape of the stadium, Morford said the process is "basically putting a square peg on a round curve."
"I don't recall the radius on that - I think it's something like 500 feet," he said. "But you have to actually figure out how to put that radius in, because you can't go 500 feet over there (pointing to the east side of the stadium) and pull a string and draw you a line. There are a lot of these curved walls in these main concourses that really create the flow of traffic all the way around the stadium. So, it's definitely a challenge for the masons to make sure it goes in the right spot, because once you put these walls in and ground them full for the reinforcing, it's quite the process to make any changes."
Not immune from the excitement that comes from seeing daily changes to the stadium, Heley said that when you see the first brick wall go up, "you think, `Oh, this is the start of something big and the start of a big phase of the project."
As the days, hours, minutes and seconds keep ticking away, Heley and the rest of the crew know that the big day is fast approaching.
"That first game day is just a rush for us," Heley said, "because you'll see the whole thing filled up with people. 50,000 people come in and fill it up, and everything starts happening. The football game happens, and everything you did was for that one moment."
---
Four Lady Bears Compete in British Amateur Match Play
9:39 P.M., THU., JUNE 13, 2013

Four Baylor women's golfers qualified for the 64-player match play tournament at the 2013 Ladies' British Open Amateur Championship. The event runs Thursday through Saturday at the par-72, 6,290 yard Machynys Peninsula Golf and Country Club.
Rising juniors Emma Carberry and Hayley Davis and rising sophomore Laura Lonardi all won their first-round matches on Thursday, and Carberry advanced to the round of 16 by winning her second-round match later in the day.
Carberry defeated San Francisco's Bethany Garton on the first playoff hole in the first round and finished 2-up on Scottland's Eilidh Briggs in the second round to advance to Friday's round of 16. She'll face Kennesaw State's Ines Lescudier in a match to move on to the quarterfinals.
Davis won her first round match against Alabama's Johanna Tillstrom by taking a three-hole lead with one hole remaining, but she was eliminated by one hole in a loss to Britain's Georgia Hall in the second round.
Lonardi also won her first round match on the first playoff hole, defeating Southern California's Sophia Popov, but she lost by two holes to Ireland's Leona Maguire in the second round.
Rising sophomore Lauren Taylor also qualified for match play, where she was defeated by Alabama's Stephanie Meadow, who was ranked No. 2 nationally by GolfStat following the 2012-13 season. Taylor was eliminated when she fell behind by five holes with four remaining.
For scores and updates on the 2013 Ladies' British Open Amateur Championship, visit www.LGU.org. Follow the official twitter feed of Baylor women's golf, @BaylorWGolf.