Baylor Team of the Decade?
12:00 P.M., TUESDAY, DEC. 22, 2009
ESPN.com, in an attempt we're sure to fill some copy over the slowish Holidays, today unveiled one man's opinion of "Baylor's team of the decade" for the 2000s. Check out Tim Griffin's choices, which despite a typo on Dan Gay's name, are interesting and could definitely spark a debate.
The team is sprinkled with Bears that went on to the NFL, but also left out several future pros (Trent Shelton, Colin Allred, Josh Bell and Montez Murphy) and didn't find room for standouts including Justin Crooks, Maurice Lane, Jon Erickson, Samir Al-Amin, Quintin Outland and Adam Stiles.
Baylor will at some point determine its own Team of the 2000s, as they have with each previous decade, and I'm sure the process won't be easy.
Griffin also singles out his Top Moment (the '04 win over #16 A&M on a 2-point PAT in OT) and his player of the decade, Joe Pawelek. One could also make arguements for or against either of those choices.
---
14 Bears to Graduate Saturday
2:30 P.M., FRIDAY, DEC. 18, 2009

Saturday is mid-year commencement at Baylor University, and fourteen current and former Bears football lettermen will be graduating. Congratulations to these student-athletes, which include two returnees, Jameon Hardeman and Brad Taylor, who will be back in 2010 for their senior year of eligibility.

BAYLOR DEC. 2009 GRADUATES
Thad Boatner - triple major - MIS
Carter Brunelle - Sports, Sponsorship and Sales
Trey Bryant - General Studies
Jameon Hardemon - Outdoor Recreation
Antonio Jones - General Studies
Jason Lamb - Management and Human Resource Management
Jordan Lake - Management
Joe Pawelek - Finance and Economics
Ryan Roberts - Sport Pedagogy (masters)
Ernest Smith - General Studies
Blake Szymanski - Marketing
Brad Taylor - General Studies
J.D. Walton - Speech Communications
Jeremy Williams - Speech Communications

Pictured in photo are 11 December grads and two (Leon Freeman and Sam Shalala) who graduated last May (left to right: Jeremy Williams, Ryan Roberts, Leon Freeman, Sam Shalala, Sam Sledge, Jordan Lake, J.D. Walton, Carter Brunelle, Joe Pawelek, Ernest Smith, Brad Taylor, Jason Lamb, Thad Boatner)
---
Sepulveda All-Decade / Gay Signed By Jets
10:30 A.M., FRIDAY, DEC. 18, 2009
Congrats to Daniel Sepulveda, who was included on this week's SI.com All-Decade collegiate team for the 2000s.
BEARS IN THE PROS ADD: One quick addition to the NFL players update, Thursday former Bear Dan Gay [NFL bio] was signed to the New York Jets practice squad. Congrats Dan.
---
Update On Bears In The NFL
10:30 A.M., THURSDAY, DEC. 17, 2009
Here's an update towards the latter stages of the NFL season on Baylor's current pros: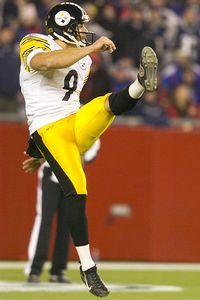 COLIN ALLRED [NFL bio] - Allred has played nine games for the Tennessee Titans and has totaled eight tackles (five solo, three assisted).
JOSH BELL [NFL bio] - Bell signed with the Green Bay Packers in November and has played in one game.
MATT BRYANT [NFL bio] - Bryant signed with the Atlanta Falcons on Dec. 1. In two games in Atlanta, he is 3-for-3 on field goals with a long of 36 yards. He's also 3-for-3 on PATs.
DANIEL SEPULVEDA [NFL bio] - Sepulveda has 61 punts for 2,666 yards in 13 games for the Pittsburgh Steelers. He averages 43.7 yards per punt and recorded a career-long 60-yard punt vs. the Browns in week 14. He has dropped 25 punts inside the 20-yard-line.
JASON SMITH [NFL bio] - Smith has started five of the eight games he has played for the St. Louis Rams in his rookie season. He hasn't played since Week 11 due to a concussion.
JUSTIN SNOW [NFL bio] - Snow has played in all 13 games for the Indianapolis Colts as the deep snapper.
C.J. WILSON [NFL bio] - Wilson, a backup defensive back, has played in seven games this season for the Carolina Panthers and registered seven tackles and three pass deflections.
---
2009 Highlight Video
3:45 P.M., TUESDAY, DEC. 15, 2009
In case you missed this on the Inside Baylor Sports television show or our official Baylor Athletics facebook page, here is the official 2009 Baylor Football Highlight video, courtesy of Inside Baylor Sports (Robert Shiekh)...
---
Update on Postseason Honors/Awards
2:30 P.M., FRIDAY, DEC. 11, 2009
Before we head into the weekend let's get current on the continuing postseason awards being received by Baylor student-athletes...
---
Pawelek and the Commissioner
2:00 P.M., FRIDAY, DEC. 11, 2009
While Joe Pawelek was in New York City this week taking part in the festivities surrounding the National Football Foundation Scholar-Athlete Class and awarding of the Campbell Trophy, he had a chance to meet with NFL Commissioner Roger Goodell in the NFL offices across the street. Here are some pics of JoePaw with the commissioner (courtesy of Gene Boyars).
Pawelek chatted briefly with Goodell in his office, took a photo out on the balcony (photo above), and even had a chance to check out the Vince Lombardi Trophy (photo at right), awarded to the Super Bowl winning NFL team.
---
JoePaw in the Big Apple
11:15 A.M., WEDNESDAY, DEC. 9, 2009
One of 16 finalists for the Campbell Trophy, considered by many to be the "Academic Heisman", senior linebacker Joe Pawelek was in New York City Tuesday night for the 52nd National Football Foundation Annual Awards Dinner.
In an awards dinner that was also highlighted by the induction of the 2009 College Football Hall of Fame Class, Florida quarterball Tim Tebow claimed the 20th William V. Campbell Trophy.
Just for being a finalists and earning NFF Scholar-Athlete honors, Pawelek receives an $18,000 post-graduate scholarship and became just the second Baylor player ever to earn the prestigious scholarship from the NFF.
A double-major in finance and economics, Pawelek carries a 3.71 GPA. Congrats JoePaw.
2009 CAMPBELL TROPHY FINALISTS/NFF SCHOLAR-ATHLETE CLASS
Tim Tebow, QB, Florida, winner of 2009 Campbell Trophy
Jon Asamoah, OG, Illinois
Matt Bauman, LB, BYU
Eric Decker, WR, Minnesota
Moses Harris, S, Fresno State
Tim Hiller, QB, Western Michigan
Paul Jasinowski, DT, Brown
Beau Kildow, WR, Morningside [Iowa] College
Josh Mahoney, LB, Northern Iowa
Colt McCoy, QB, Texas
Jarrell NeSmith, TE, Tusculum [Tenn.] College
Joe Pawelek, LB, BAYLOR
Todd Reesing, QB, Kansas
ZaVious Robbins, WR, Hardin-Simmons
Blaine Westmeyer, OT, Augustana [Ill.] College
Reed Williams, LB, West Virginia
---
Mizzou Win A Rare Feat / More Honors
4:45 P.M., TUESDAY, DEC. 8, 2009
Fast fact: All eight Baylor losses this year came to teams that are headed to bowl games. Additionally Baylor defeated one opponent, Missouri, that is headed to a bowl.
Last week in his View From The Hill blog, Baylor Bear Insider guru Jerry Hill wrote about the rarity of this year's Baylor win over Mizzou. He points out that this year's win over current 8-4 and bowl-bound Missouri was BU's first over a team that finished with at least eight wins in 14 years (since a 1995 victory over 24th-ranked Texas Tech in Waco).
We'll take that note one step further. This year's win over MU was the first on the road over a team that finished with at least eight wins in 18 years - since a 16-14 victory at No. 12 Colorado in Boulder in 1991 (the Bears were ranked 23rd at the time). CU finished 8-3-1.
MORE POSTSEASON HONORS: Honors continue to trickle in for Baylor student-athletes. Joe Pawelek earned additional first-team All-Big 12 kudos from ESPN.com, Phil Steele and the Waco Tribune-Herald. Derek Epperson and Jordan Lake were both listed first-team by Phil Steele and second-team by the Trib. J.D. Walton earned second-team honors by both organizations and Kendall Wright was named second-team by the Trib and third-team by Steele.
Additionally, some love for one of the younger Bears, as CollegeFootballNews.com gave Freshman All-America honorable mention to rookie O-lineman Ivory Wade. Congrats.