NFL Combine, Baylor On-Campus Pro Day, etc.
3:30 P.M., WEDNESDAY, FEB. 24, 2010
Today marks the start of the 2010 NFL Scouting Combine in Indianapolis, the six-day pre-draft tryout for hundreds of college football players invited to workout in front of NFL personnel. Baylor All-America center J.D. Walton and receiver David Gettis are among the players working out this week/weekend.
With the NFL Draft less than two months away, several Bears are busy working out in hopes of being drafted or signing free agent contracts with NFL teams.
BAYLOR PRO DAY: An important event also comes up next week, when Baylor holds its on-campus Pro Day (Thur., March 4), when former Baylor players can work out in front of dozens of NFL scouts in Waco.
Speaking of draft possibilities, the website National Football Post recently updated its 2010 draft page and ranked potential draftees by position, and included the following rankings for Baylor players: J.D. Walton #3 among centers, David Gettis #14 among receivers, Jordan Lake #14 among free safeties and Joe Pawelek #15 among inside linebackers.
Finally, here is a quick update on the events some Baylor seniors have participated in since the season ended:
Carter Brunelle, DS - East-West Shrine Game

David Gettis, WR - NFL Combine, Texas vs. Nation Challenge

Jordan Lake, S - Texas vs. Nation Challenge

Joe Pawelek, LB - East West Shrine Game

J.D. Walton, C - NFL Combine, Senior Bowl
---
More Griffin III Rehab, Honors
3:15 P.M., THURSDAY, FEB. 18, 2010
Waco's local CBS affiliate, KWTX, recently caught up with Robert Griffin III during his spring rehab, and the following is a piece Dan Ingham ran on RG3:
Fox Sports published a list of "10 potential breakout offensive stars for 2010" that included Baylor's sophomore quarterback Robert Griffin III.
---
Update On Some NFL Hopefulls
1:30 P.M., THURSDAY, FEB. 18, 2010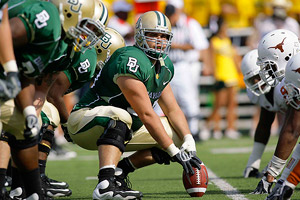 Baylor All-America center J.D. Walton was recently mentioned as the top-rated center prospect by Scouts, Inc., according to a blog on ESPNDallas.com. Here's the exact quote:
Scouts Inc. ranks Baylor's J.D. Walton, an Allen product, as the top center in the draft and projects him to go in the middle rounds.
Two other Bears were interviewed recently by the NFL Draft Bible, which published audio of the interviews on its website. You can listen to interviews with linebacker Joe Pawelek and safety Jeremy Williams below:
Click here to listen to audio interview of Joe Pawelek by NFL Draft Bible.
Click here to listen to audio interview of Jeremy Williams by NFL Draft Bible.
---
RG3 Continues Rehab
11:00 A.M., FRIDAY, FEB. 12, 2010
Here's a peek at Robert Griffin III rehabing this week in the Allison Indoor Facility with trainer Mike Martin. RG3 took part in some agility drills and his recovery is progressing nicely.
---
Gettis & Lake in El Paso / Dixon a "Breakout Player"
11:00 A.M., THURSDAY, FEB. 11, 2010
Congrats to departing Bears David Gettis and Jordan Lake, who were part of the state's 36-17 victory in the Texas vs. the Nation Challenge last Saturday in El Paso. The game is an annual all-star event for seniors who have exhausted their eligitibility and a showcase for professional scouts.
As for a brand-new Bear getting some nice pub, newly signed safety Ahmad Dixon (from nearby Midway High School) was included on Ivan Maisel's blog today listing the Big 12's five breakout players of 2010, posted on ESPN.com. Below is what Maisel wrote about Dixon:
Ahmad Dixon, S, Baylor: When Lane Kiffin left Tennessee last month, the Waco safety decided to stay home and sign with Baylor. The No. 15 player in the ESPNU 150 is sorely needed in a secondary that lost two starters, both of whom finished among the Bears' top five tacklers. Dixon may be young but he has the size (6-foot-1, 195) and athleticism (also a kick returner) to help the Bears sooner rather than later.
---
Welcome To 19 New Bears That Signed Wed.
5:00 P.M., THURSDAY, FEB. 4, 2010
Baylor football added 19 new players to the program Wednesday who signed National Letters of Intent with the school. They joined four newcomers who are enrolled in the spring semester to make up Baylor's 23-man 2010 signing class (BU also has two grayshirts, quarterback Bryce Petty and receiver Tevin Reese, in school who will participate in spring drills).
[Robert Singletary and Sam Holl photo courtesy of Houston Chronicle]
We've posted some links to various articles published about the Bears signing class, enjoy:
[Ahmad Dixon photo courtesy of Waco Tribune-Herald]
Below are some good articles on the new Bears from their local papers:
[Dominique Jones photo courtesy of NewsOK.com]
Make sure to also check out the Art Briles signing day press conference (below) as well the video of recruiting expert Randy Rogers and FOX Sports Southwest's Ric Renner talk about the Baylor class.